God Speaks In Unusual Ways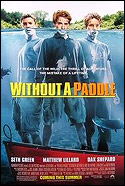 Jasper Speaks:

Lately I have been bogged down and not really myself. I have moped a lot and had a couple of hum dinger pity parties. Then on Saturday afternoon, Kendra had to work so I took in a movie by myself. I sat alone in the back of the theater. I was still a little down as the movie began.

As odd as this may sound I think I had a spiritual revelation watching, WITHOUT A PADDLE. It was a mindless buddy movie but it did talk about how we need to appreciate life and live it to the fullest. It made me realize that I have a good job, good friends a loving family, a wonderful woman who loves me and so much more that I do not deserve. I need to be thankful for all of these things.

I laughed at the dumb humor but in the middle of it all I found God's message to me that day. It pulled me out of the dulldrums a bit and reminded me we only have one chance in life! There were even some scenes in the movie I have contemplated using in a message someday. As I left the theater I couldn't help but think, "Wow, God just used Seth Green in my life. How odd." It serves as a reminder that we need to be seeking what God has for us in everything we do. We never know when the next "a-ha" moment will happen.