Working Out
Jasper Speaks: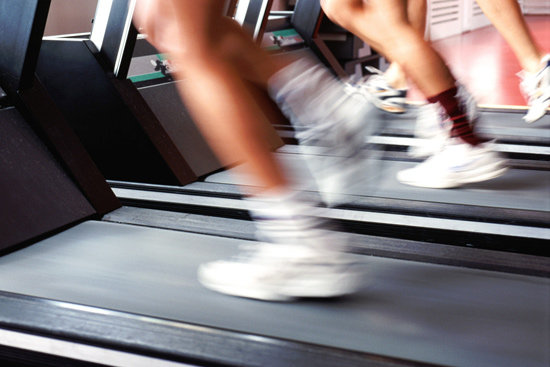 I have once again begun to workout. This is far from my favorite activity. I have often wondered why I was cursed with the metabolism of a slug. I wish I was one of those people who could just think and burn calories. Alas, I am not. So I work out. My torture of choice is the treadmill. I walk and walk and watch as the little red numbers indicate just how much work out I am really doing. The thing about a treadmill is as much as you walk, you don't ever really get anywhere. Sure there is a measurement of distance but when you are done. You are standing in the same place.
However, it seems that when I am working out on a treadmill and I am getting close to giving up it helps to reach down and as I am walking, take a long drink from my ice cold water bottle. That moment of refreshing gets me going again. My thirst is quenched. I can meet my goal for the day. Yes, it may seem that I am going nowhere but sometimes, even just a quick drink, helps me stay in the game when my motivation starts to wane.
Sometimes I feel like I am on a spiritual treadmill. It seems no matter how much I try to walk, I wind up in the same place. It is a dry and parched place to be. I don't like to be there. I feel as though I am doing the same thing over and over. It seems like I am stuck in a rut and am getting thirstier by the minute.
Just like physical water changes my perception mentally during my workout, the rich goodness of the living water found in God's Word refreshes me spiritually. In those times when I feel as though I am not making any progress spiritually, drinking in the words of the Scriptures is the moment of encouragement that keeps me going.
I think of the Words of the Psalmist:
As a deer longs for streams of water,
so I long for You, God. I thirst for God, the living God.
When can I come and appear before God?
My tears have been my food day and night,
while all day long people say to me,
"Where is your God?"
I remember this as I pour out my heart:
how I walked with many,
leading the festive procession to the house of God,
with joyful and thankful shouts.
Why am I so depressed?
Why this turmoil within me?
Put your hope in God, for I will still praise Him,
my Savior and my God. Psalm 42:1-5 (HCSB)
When I drink from the fountain of God's Word I am motivated to remember that though the race is long, my hope is in the Lord. I can continue. Though I may be aching spiritually, and my steps seem to be leading to nowhere, I can trust that God has an outcome that is worth the journey. I am able to quench my thirst for a reminder of God's plan and love by drinking in what He promises me in His Word. Just as cool water while working out refreshes me and reminds me that I am working toward a goal of good health, consistent time in the Word reminds me that healthy discipleship is a journey that ends in eternal glory.